Lido Inks Gains Alongisde TVL Rise
2 min read
Lido DAO (LDO), the driving force behind the revolutionary liquid staking protocol for Ethereum (ETH), has displayed an impressive 7.41% ascent in its Total Value Locked (TVL) over the course of the last seven days. 
This robust surge in TVL has positioned Lido Finance as a prominent contender in the decentralized finance (DeFi) landscape, illustrating its resilience amidst a fluctuating market.
According to the latest data from DeFiLlama, Lido Finance's TVL witnessed a notable augmentation, securing its place as the most substantial growth among the top five DeFi protocols. This feat underlines Lido's exceptional capacity to adapt and expand, distinguishing itself from its counterparts during a pivotal time for the DeFi sector.
Lido Finance TVL. Source: DeFiLlama
Despite the tumultuous price fluctuations that have characterized the altcoin realm, Lido's TVL growth stood unwavering. This achievement can be attributed to a discernible surge in Ethereum deposits within the protocol over the reviewed timeframe.
Lido's ETH Deposits Surge Amidst Uncertainty
The primary driver behind Lido's remarkable TVL surge over the past week was a substantial influx of ETH deposits into the platform. Even in the face of significant market price gyrations, Ethereum holders exhibited a commendable degree of confidence in Lido's liquid staking protocol. 
LDO has a market cap of $1.47 billion. Chart: TradingView.com
Recent technical analysis highlights that the platform saw a cumulative total of 185,500 ETH deposits in the last seven days alone. This not only positioned Lido as a beacon of stability in a tempestuous market but also secured its status as the go-to protocol for net new Ethereum deposits.
Insights And Outlook For Lido Finance
Lido Finance's recent achievements underscore its growing prominence in the DeFi realm. With a current price of $1.66 according to CoinGecko, the platform's token's resilience (LDO) is further affirmed by its 24-hour rally of 5.1%. Over the span of the last seven days, Lido has achieved gains of 1.4%, a testament to its unwavering performance even in challenging times.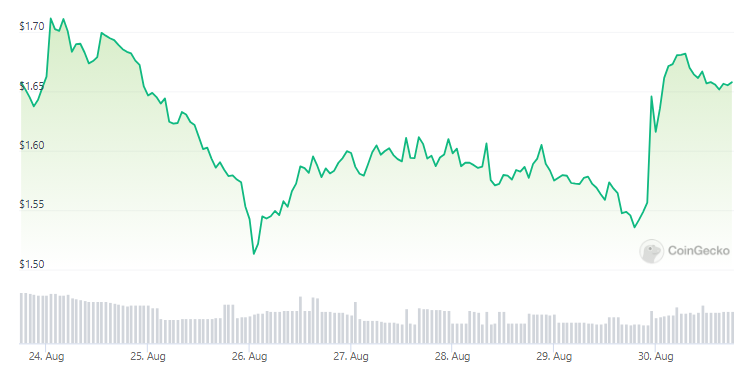 LDO seven-day price action. Source: Coingecko.
As the broader cryptocurrency landscape continues to evolve, Lido's success serves as a reminder of the power of innovative DeFi solutions. By facilitating liquid staking for Ethereum, Lido DAO not only appeals to those seeking rewards from staking but also embodies the ethos of adaptability that is vital for thriving in the ever-changing world of decentralized finance.
As Lido outperforms its peers in TVL growth and garners a significant influx of ETH deposits, it proves that adaptability and reliability are the cornerstones of sustainable success in the dynamic realm of decentralized finance.
(This site's content should not be construed as investment advice. Investing involves risk. When you invest, your capital is subject to risk).
Featured image from PortalCripto